Harvest Festival 2017
Harvest Festival 2017
6 October 2017 (by admin)
All the pupils donate individual food boxes, which will go to the Sheffield Archer Project, helping the homeless and vulnerable.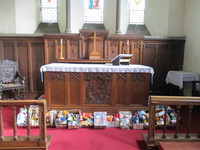 This years Harvest Festival was very well attended. Bradwell Preschool & Years 3 & 4 from Bradwell Junior's joined us for the service.
It was the first church service for our new reception children who were in good voice and finished the service with one of their favourite songs - The Big Red Combine Harvester.
The children from the Infants and Junior School presented Rev Ian Davis with retirement cards. This will be his last school service before his retirement in a few weeks time.